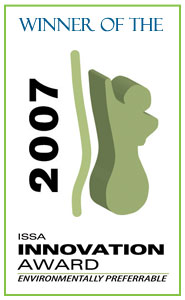 Sustainable Earth® Commercial Cleaners
Press Release: December 3, 2007
Corporate Express offers companies a way to reduce environmental impact through Sustainable Earth cleaning products. Read more >
Corporate Express believes that a sustainable community should use its resources to meet current needs while ensuring adequate resources are available for future generations.
It was our commitment to these guiding principles that motivated us to create our line of Sustainable Earth® commercial cleaning products. Winner of the 2007 Most Innovative Green Products Award from the ISSA, our products offer a truly different and innovative way to clean your facility. Learn how our products can help your business in the BusinessWeek article How To Heal A Sick Office.
We created this exclusive line of products with three principles in mind:

Performance
Deliver cleaning power through environmentally friendly products.

People
Create a workplace free from harmful toxins and odors.

Planet
Reduce the negative impact cleaning solutions have on the
environment through Green Chemistry.